The third series of Merlin is heading towards a thrilling conclusion, with the first installment of a two-part finale airing this Saturday night. Eager to get the inside scoop, we caught up with Merlin himself, Colin Morgan, to chat about the final episodes, what's to come in series four and how it felt to look 80 years old. Warning - may contain mild spoilers!
What have been some of your highlights from series three?
"Definitely one of the biggest highlights for me was having Warwick Davis work on the show. I'm a huge Willow fan, so it was great to have him on it. There's also some pretty iconic moments that happen in the third series, but are still to come in the final two episodes. Obviously I'm aware of the Arthurian legends and I've read lots about them, but to see those iconic images being recreated was definitely a huge highlight as well. Of course, all the locations that we get to go to are brilliant. There were some new ones we visited this year which were just stunning. There's loads of highlights, but that's all I can think of at the moment!"
Is it exciting for you as the show introduces more elements from the legends, such as the knights of the round table?
"Totally. When I first started, throughout series one and two, I exhausted all the literature of Arthurian legend and Merlin. To be so aware of it and be working in that world, then seeing it all materialise, knowing that it's so rooted in history and that you're continuing this legend that's been retold throughout the years, is brilliant. It's hugely exciting. I haven't become complacent at all. I still act like a bit of a geek when I see it all happening!"
How was it wearing the make-up for episode ten when you were disguised as the old wizard?
"Brilliant. It was really good to get a chance to do something completely different and play a different character. I got a chance to have a bit of fun with that. The first time we put the make-up on, it took a little over five hours. Keeping it on all day, your face does feel a bit fatigued! But it's fun experimenting with it and seeing what you can get away with, knowing that it's not your face. Although I enjoyed every single second of it, it did feel good to have it peeled off at the end of the day!"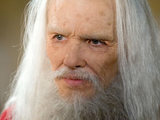 What hints can you give us about what's coming up in the final two episodes?
"Huge iconic elements from the legends are happening. You'll see the formation of a certain famous band of knights, possibly seated at some form of table! There's also elements from the past. Things that have been buried since season one are going to resurface, literally! You're also going to see the kingdom and those who rule it overthrown and taken over by a dark force. Camelot is in dire straits. All the heroes are forced to form a vigilante gang to fight against it all."
Will we see any returning characters from the show's past?
"Absolutely. Some characters who haven't appeared since series two [come back]. Lancelot's returning and Gwaine makes another appearance. There's also other characters from the past with an emotional link to Merlin. Emilia Fox returns as Morgause - she has a big hand in what happens. Tom Ellis, who plays Cenred, also appears. All the evil ones are coming back, but we've got some goodies on our side, as well!"
It seems like there's big changes ahead for the show. Does this feel like the end of an era?
"It kind of does. It seems like things would be completely different, going into a fourth series. Having come out of the crisis at the end of the final episode, Camelot's going to be a very different place. You see Arthur acting more like a king. Whether that means he's really on the brink of taking the throne, I don't know. But it's certainly feeling very close. Merlin is also going to be a changed person. It definitely does feel like once this hurdle is jumped, Camelot is going to be a changed place."
How would you like the character of Merlin to evolve in series four?
"Of course, this is a tale about growing up, and you never want your character to grow up too fast. Certainly the producers like to keep it as a slow boiler. I'm always keen to see Merlin making more mature decisions and that's something that they've been focusing on throughout the third series. He can't be as naive as he was when the show first began. He's been hurt too many times and been through too much. I'd like to see my Merlin taking on more of the aspects of the Merlin of legend, with a wise head on his shoulders. I'd like to see Merlin become less naive and also concentrate more on his powers. I don't think we've seen him do enough cool magical stuff. I want more cool stuff to do!"
Do you know yet when series four will begin filming?
"We start again next year, I think around March time."
Do you have any other projects lined up during the break?
"The film that I did last year, called Parked, has just been selected from the Torino Film Festival in Italy, so I'm going to that at the end of the month. I'll also be promoting another film that I did, called Island. There's nothing set in stone yet in terms of other work, so I'm enjoying my rest at the moment, having come to the end of the eight-month Merlin madness!"
* From Digital Spy
Can't believe it's going to end next week... then, have to wait for a year before season 4 is aired. Why can't they make 20+ episodes rather than just 13 eps?.... hmm....